With all due respect to the marshmallow-ladened classic, this recipe is for those who prefer their sweet potatoes on the savory side. Their earthy sweetness is further deepened by butter braised carrots and well complemented by tangy, bright fresh herb chèvre... And to keep things interesting, the crispy, crunchy sage and garlic infused breadcrumb topping adds a nice little texture contrast.
A heaping spoonful of this luscious casserole is just what your plate needs this Thanksgiving, but you don't have to reserve it only for a special occasion. It's a great cold-weather side any day of the week. It makes six servings but could easily be divided into smaller portions. Store the extra in the freezer or share with a neighbor or friend.
This recipe was inspired by Sweet Potato and Carrot Puree, which appeared in the original and unimpeachable "Silver Palate Cookbook." With additional inspiration from Carla Lalli Music's 2018 cookbook, "Where Cooking Begins." Steaming sweet potatoes is every bit as magical as she proclaims and the perfect method for this recipe. Now without further ado, here's how to make it...

Ingredients:
2 lb Sweet potatoes
1 lb Carrots
2 c Water
1 tbsp Sugar
8 tbsp Sweet butter, softened (divided)
Salt & Pepper
4 oz Door County Creamery Fresh Herb Chèvre, softened
½ c Grated Parmesan
1 c Breadcrumbs, toasted
Fresh thyme (divided)
1-2 Garlic clove, smashed
10 Sage leaves, sliced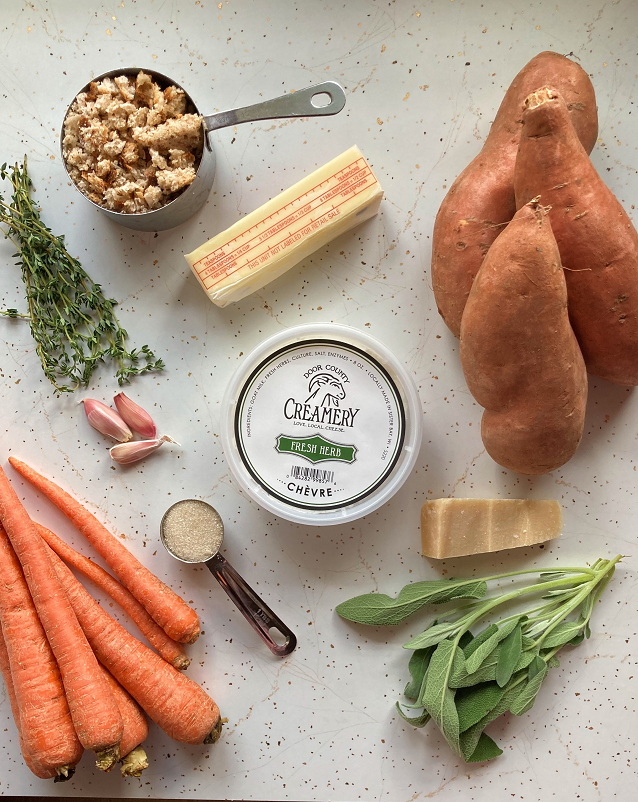 Peel carrots and cut into 1-inch pieces. Scrub potatoes. If needed, cut potatoes crosswise to fit the steamer.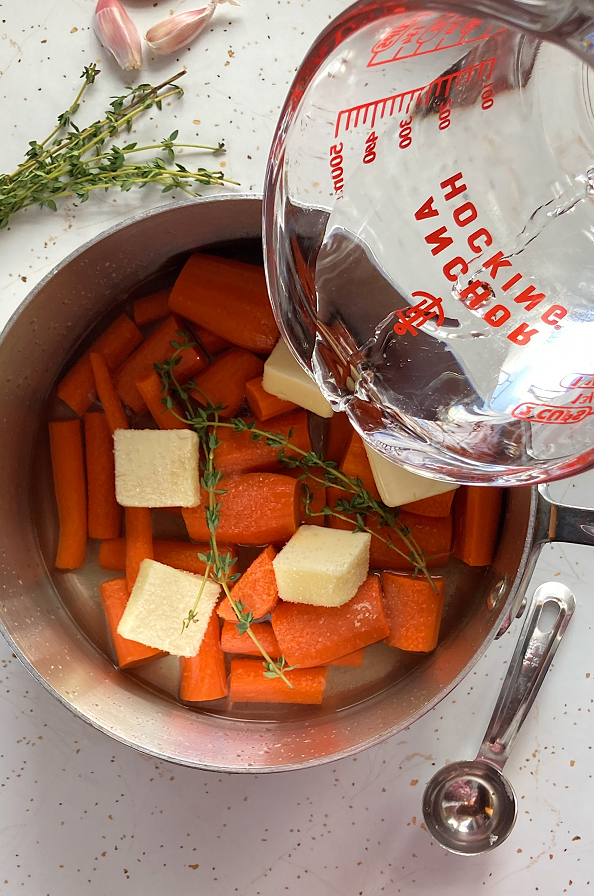 To saucepan, add carrots, sugar, a few sprigs of fresh thyme, salt, water and 5 tablespoons of butter, cut into chunks. Cook over medium heat until water has evaporated and carrots are sizzling in melted butter. When finished cooking, remove thyme stems.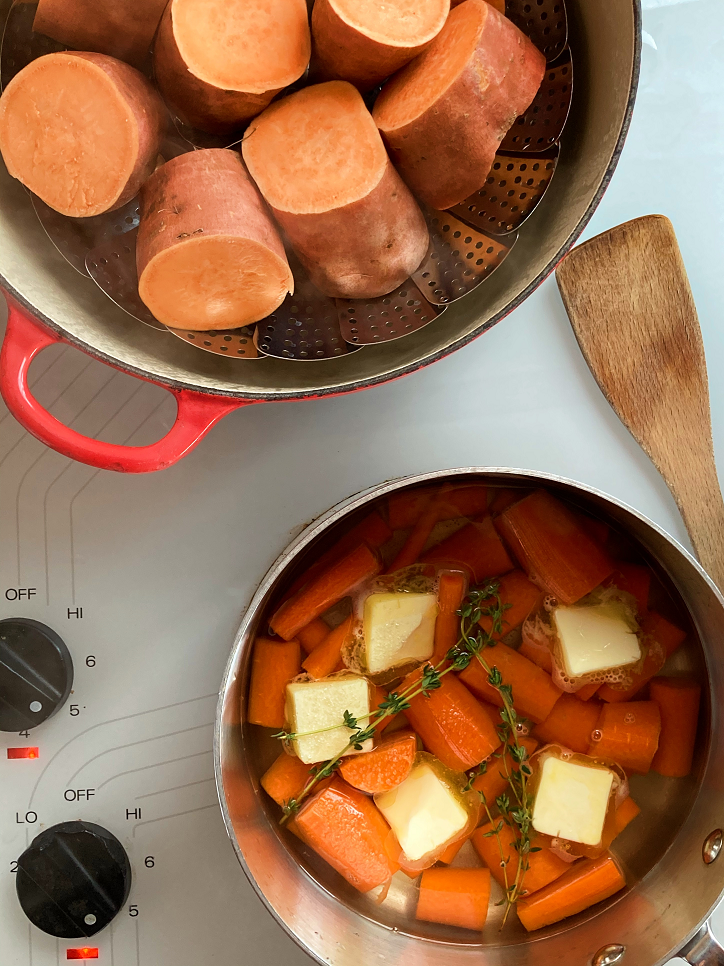 Bring sweet potatoes to a boil uncovered. Then, turn down the heat to medium and cover the pot. Let potatoes steam until fork tender. After potatoes have steamed through, peel and discard skins.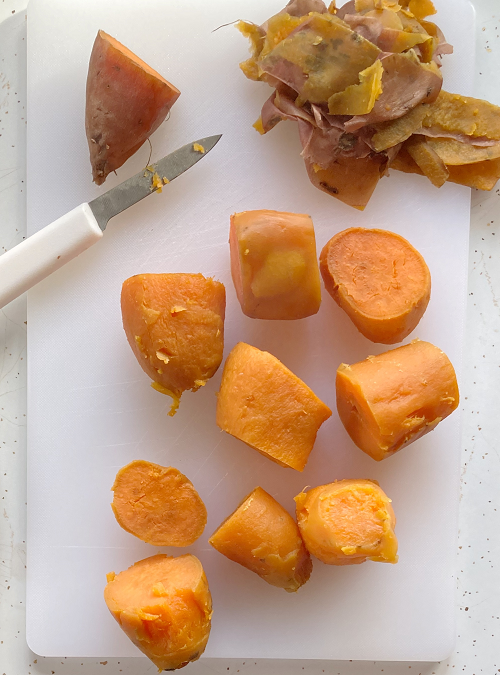 Combine peeled sweet potatoes and cooked carrots using a potato masher. (Use a food processor, if you prefer a smoother texture.) Mash ingredients together until well combined. Then, add 1 tsp chopped thyme, chèvre and Parmesan and stir to combine with sweet potato-carrot mixture. Add salt and pepper to taste. Finally, transfer mixture to a casserole dish.
Place the saucepan on the stove over medium heat, add a glug of olive oil and a clove or two of smashed garlic. Saute until clove(s) are golden brown. Then, remove clove(s) from the pan and add remaining 3 tablespoons of butter. Once butter has melted, add sage and let cook for a minute or so. Then, add breadcrumbs and cook until crispy and golden brown. Once breadcrumbs are cooked, spoon over the casserole, if you plan to serve immediately.
MAKE-AHEAD INSTRUCTIONS: This casserole can easily be made a few hours before dinner or even the day before. Follow steps 1 through 4, then store your casserole in the fridge. If you'd like to make the breadcrumbs ahead (step 5), just remember to store them separately from the casserole. Add them right before reheating to prevent sogginess. If your crumbs are deeply browned, tent the casserole with a piece of aluminum foil to prevent them from burning.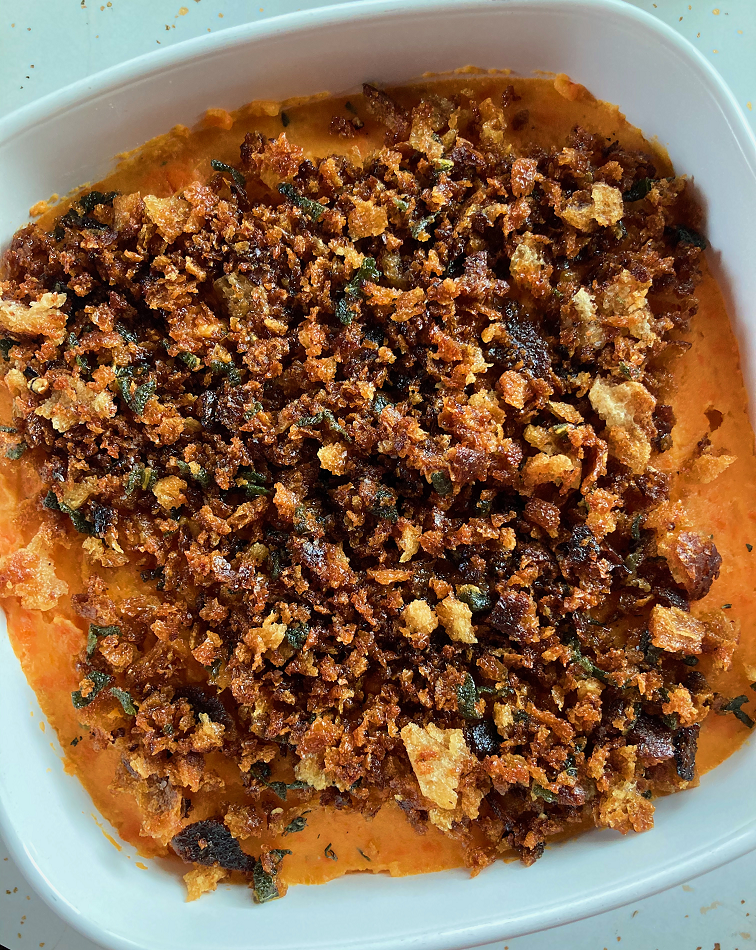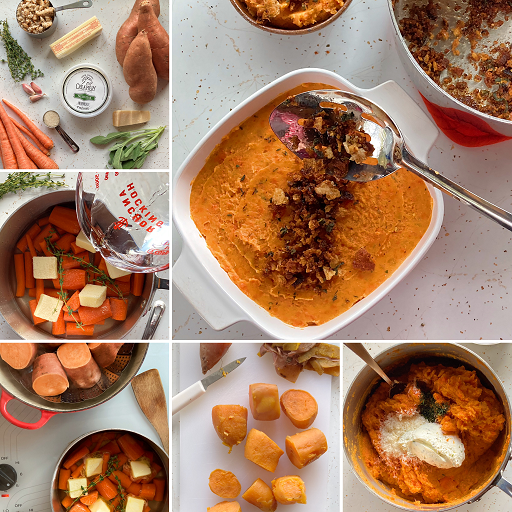 Order your fresh herb chèvre from our online store.
Door County locals and in-towners can find our cheese at the following stores:
Piggly Wiggly
Main Street Market
Greens and Grains
Top Shelf
Waseda Farms
Healthy Way
Madison Ave Wine Shop