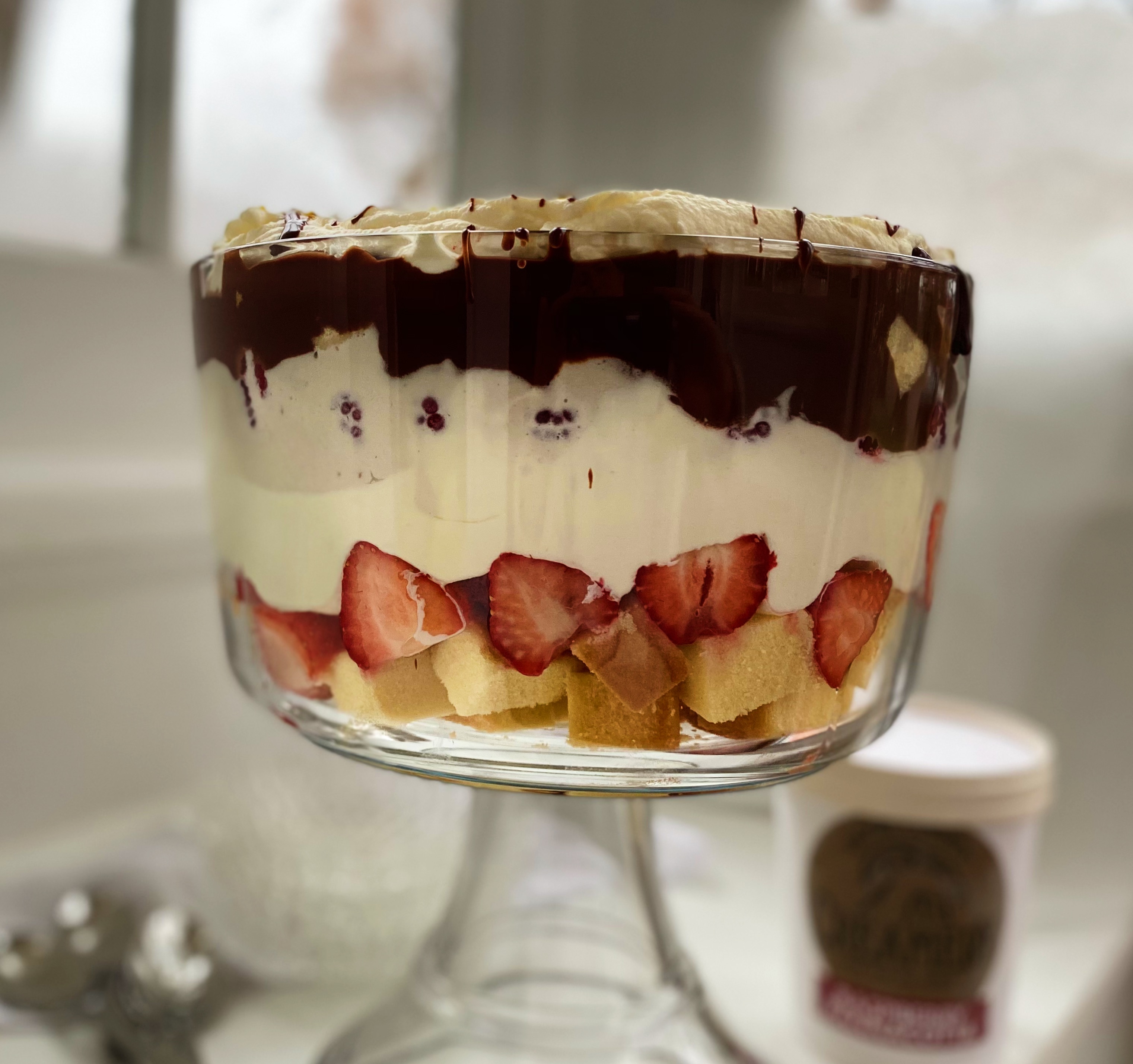 Lay-er it on me! That's what this dessert would say if it could talk. With each decadent layer, it's telling you that it can handle all your sweetest dessert dreams. Cake, chocolate ganache, whipped cream, strawberries, raspberries—check, check, check, check and check! And that's not all. At the center of this show-y trifle is the dreamiest, creamiest ingredient of 'em all: raspberry panna cotta gelato! This OG gelato flavor is complemented by all of the surrounding layers, which echo its tangy-sweet flavor and light-as-new-fallen-snow texture. So if you're still looking for the perfect showstopping finale to your holiday feast, give this trifle a try.
Ingredients:
2 pints heavy whipping cream, divided
⅓ cup powdered sugar, (measurement is approximate, add to taste)
1 tsp vanilla extract
1 pint Door County Creamery raspberry panna cotta gelato
1 c chocolate chips
20 oz pound cake*
2 ½-pint boxes of fresh raspberries
1 pint of fresh strawberries, sliced
Pistachios, if desired
*Store-bought pound cake will work just fine in this recipe. Find it in the frozen foods or bakery section of your supermarket. The frozen pound cakes we found were sold in 10.7-oz loaves, so we used two for this recipe. If you prefer homemade, try the one Ina Garten features in her Red Berry Trifle dessert.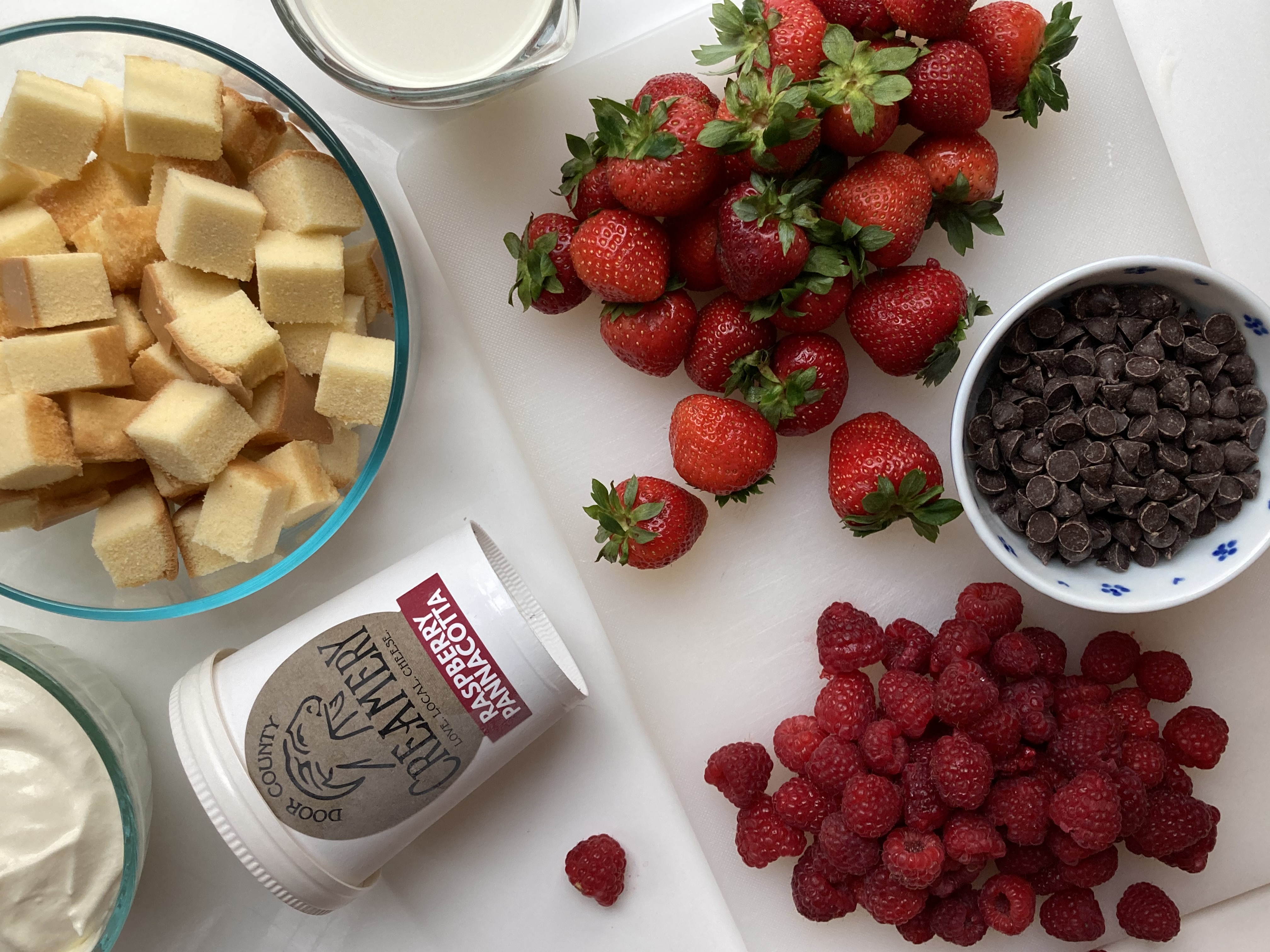 Place a large mixing bowl and beaters (or whisk, if you've got Popeye arms) in the freezer.

Set aside 8 oz of cream.

Remove the chilled bowl and beaters from the freezer, add all remaining cream to your bowl and begin whipping. When your beaters begin to leave a trail through the cream, add powdered sugar to taste. Keep whipping until soft peaks form. Then, gently stir in vanilla. Set bowl of whipped cream in the fridge until ready to assemble.

Heat the 8 oz of cream on the stovetop over medium to low heat until steaming, but not boiling. Meanwhile, place chocolate chips in a medium bowl. Once the cream is heated through, pour over chocolate chips and cover the bowl with a plate. Let sit for 5 minutes, then stir until cream and chocolate combine into a glossy sauce. Set in the fridge to bring temperature down before assembly.

Wash berries and pat dry. Slice strawberries into bite-size pieces.

Cut pound cake into ½-inch cubes.

Take gelato out of the freezer and allow it to soften a bit. It's helpful to remove gelato from the pint container and stir it a few times so it's soft enough to spread in the bowl without disturbing the other layers

Assemble trifle: line bottom of bowl with cubed pound cake. Add a layer of strawberries—make sure to press the fruit against the glass, so it shows up nicely. Then, add half of the whipped cream and all of the gelato. Top gelato with raspberries and another layer of pound cake. Now it's time for the ganache. First, pour along the inside rim of the bowl. This will ensure the ganache shows up as a distinctive layer. Then, pour ganache over the poundcake. Reserve just a little to use as a garnish. Add remaining whipped cream. The last step is adding a chocolate drizzle for garnish, dip the tines of a fork into the remaining ganache and drizzle over the trifle by moving your wrist in a sweeping motion. If you like, top the chocolate with a layer of pistachios for a fun punch of color and a bit of crunch. Serve trifle immediately. Leftovers should be stored in the fridge or freezer.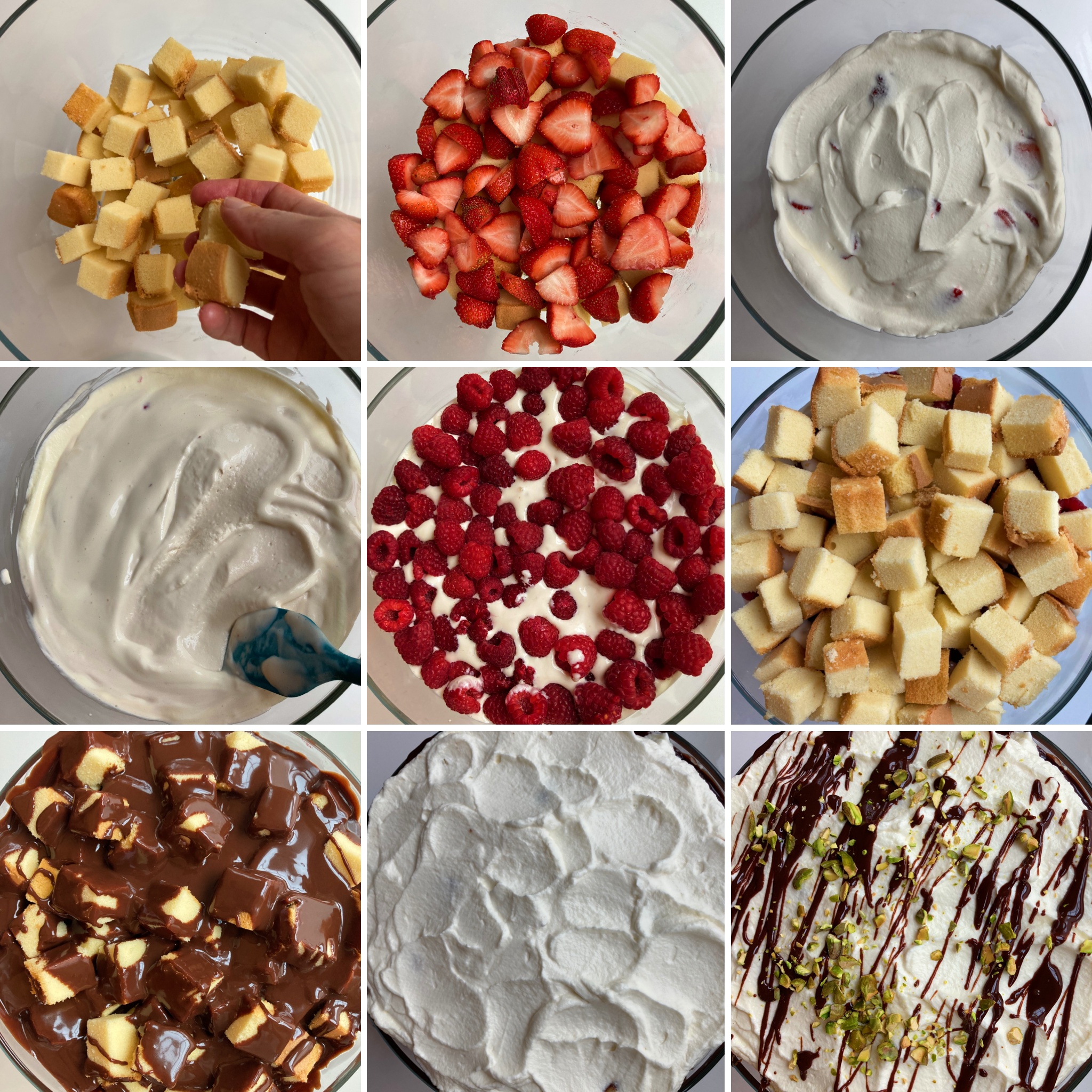 Expert Tips:
-Trifles usually feature booze-soaked cake or ladyfingers. We chose to make ours nonalcoholic, but you can always spash an ounce or two of cognac over your poundcake, if you want to make your dessert more adult.
-This dessert is easy to assemble and presents beautifully in a two- or three-quart clear glass, straight-sided, pedestal-mounted bowl. Find a trifle bowl at your local discount retailer, or if you're lucky, you might be able to find one at a second-hand store.
-As per directions, you'll want to prepare all your components *before* beginning to assemble. This will ensure your whipped cream and gelato don't get to melty while you're busy making ganache or chopping berries.
-Any type of cake will do in this recipe, but we prefer poundcake, because it doesn't turn mushy when topped with wet ingredients.