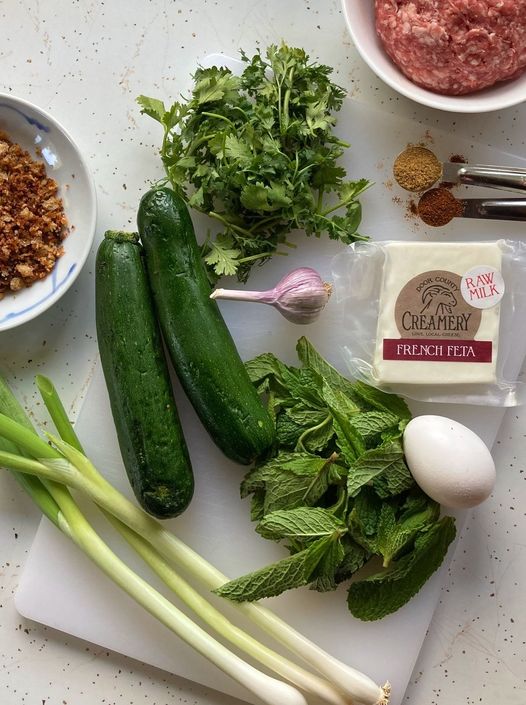 We're rolling into Fall with this week's recipe. Feta-Stuffed Zucchini Meatballs are packed with herbs, veggies and best of all, cheese! Tucked inside each meatball are chunks of rich and briny Door County Creamery French feta. So if your fridge is a tad overfull of fresh produce (#September), this is your chance to turn slightly soggy zucchini and limp herbs into a dinner that's delicious, veggie rich and super versatile.
This recipe is a reworking of one created by
Ottolenghi and Sami Tamimi and published their 2012 cookbook "Jerusalem." Our version adds feta and breadcrumbs and results in meatballs, instead of burgers. We also skipped skillet frying and baked ours in the oven.
Here's what you'll need:
1 package of Door County Creamery French feta (5 oz.),
2 small (or one large) zucchini
1 pound ground meat (of your choice)
1 XL egg
½ cup toasted breadcrumbs
¼ cup chopped cilantro
¼ cup chopped mint
3 finely chopped green onions
2 minced garlic cloves
1 teaspoon ground cumin
½ teaspoon ground chili
1. Set your oven to 400°F. Toast your breadcrumbs in butter on the stovetop.
2. Chop herbs, green onion and garlic and grate your zucchini. After grating, roll shredded zucchini in a cheesecloth or clean dish towel and squeeze out excess moisture.
3. Blot the feta dry and chop into chunks.
4. In a large bowl (or use a food processor, if you prefer), mix all ingredients—except feta. Mix until well incorporated.
5. To make meatballs, grab a handful of mixture and flatten into a patty. Add a few chunks of cheese to the center, then form the meatball around the cheese.
6. When all your meatballs are rolled and stuffed, drizzle them with oil and pop 'em in the oven. After 10 minutes, turn meatballs over. You can add some veggies to your sheet pan at this point, if you'd like. (We used up the rest of our zucchini this way.) Then, return meatballs to the oven to bake for another 10 minutes. Check meatballs to ensure they've reached an internal temperature of 165°F.
7. Then, serve! We served ours on a bed of roasted chickpeas, topped with roasted zucchini, cherry tomatoes and a generous dollop of creamy tzatziki.
Stop by the Creamery, shop a local grocery store to pick up your package of French Feta or place an order online at doorcountycreamery.com.
Store is open 11 a.m. to 7 p.m. on weekdays and until 9 p.m. on Friday and Saturday. (Oct 2020)